Shopping Cart
Your Cart is Empty
There was an error with PayPal
Click here to try again
Thank you for your business!
You should be receiving an order confirmation from Paypal shortly.
Exit Shopping Cart
from website:
https://wf.employeebenefitservice.com/wps/wcm/connect/Storefronts/obc/1398878240638
NON-COVERED PROCEDURES LEGISLATION BY STATE
Lawmakers in several states have passed new legislation that no longer allows insurers to require dental providers to give discounts for services not covered under an insured dental plan. Listed below are the states that have passed this legislation and links to the actual laws.
We encourage policyholders to share this news with their plan members who may obtain services from dental providers in these states. While this new legislation applies only to discounts on non-covered services under insured plans, and does not affect the policyholder's current insured benefit plan(s), members in these states may no longer receive discounts on non-covered services and should discuss any available discounts with their dental provider.
As the legislation continues to progress in other states, please check back for any updates, especially for policyholders with members located in multiple states.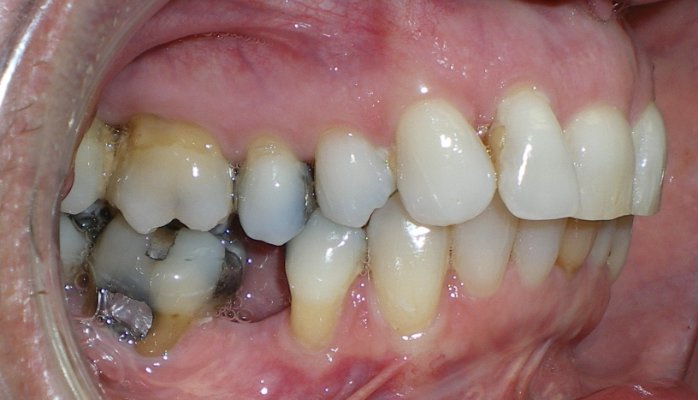 Perio and Insurance Billing Q: There are 10 things you need to know about getting paid for your perio services or services related to perio procedures.
A: Here are 10 FYIs with perio insurance billing: 1. New patients needing perio maintenance: need to find out when last quads were done. The quads need to be within last 2 years for perio maintenance to be covered by insurance. If you send it in without that information you might want to add another 60 days to getting paid for the claim.
2. Any gingivectomy or crown lengthening (especially done with a restorative procedure) needs perio charting prior to date of procedure and the charting should be attached with the submitted claim.
3. Many plan specific exclusion clauses will not pay for gingivectomies or crown lengthening with a restorative procedure on same date of service. Need to call and verify coverage when you are planning that clinical situation and might decide to split the procedures on two different days.
4. Many plan specific bundling of gingivectomies with crown procedures consider the perio procedure as part of the crown procedure. Again call to verify coverage and you might want to decide to do it on 2 different days.
5. All quadrant scaling (localized and full quadrant) you should submit perio charting at time of service to avoid insurance asking you for more information and delaying payment
6. Perio surgeries need perio charting, quadrant scaling date of service, and x-rays all submitted with the claim to avoid waiting time for payment
7. Many insurances you can not do all 4 quadrant scaling in one day
8. Frequency limitation: how often you can do quads need to verify coverage
9. Frequency limitation for perio maintenance: some insurances say you need to alternate prophy with perio maintenance, but the ADA states once a perio maintenance patient then always should be billed as perio maintenance.
10. Plan specific adjunctive procedures considered part of perio maintenance for example: Diode laser disinfection (its considered a tool used not a service)so patient pays in full.
Q: What is the most ridiculous, confusing, most denied procedure dentists bill insurance for?
A: The simple core buildup has been redefined by both the insurance companies and the ADA in the past 2 years. Somehow, over the years, insurance companies have decided that the core build-up is part of a crown procedure and thus have avoided paying us for it. Delta Dental, Metlife, Guardian, Pomco all guilty of selling a plan to employers with the clause of core-crown bundling. How they got away with this bundling I have no idea. The fact is that not only do they not pay for it, but if you are a provider, by contract they don't let you charge the patient for it either! Another frequent denial is that "the x-rays reveal that THERE IS enough tooth structure present to support an indirect restoration without the core"! We have seen this denial with replacement of an existing crown. Now how on earth can the examiner see that there is enough tooth structure from an x-ray that shows existing crown blocking everything. Isn't this crazy?.
Anyway, in response to this the ADA (in their 2014 dental codes update) came out with a new code D2949 (restorative foundation for an indirect restoration) to redefine clinically what we are doing. Now we need to identify whether we did D2949 (placement of restorative material to yield a more ideal form, including elimination of undercuts) or did D2950 (refers to building up of coronal structure when there is insufficient retention for a separate extra-coronal restorative procedure. A core buildup is not a liner to eliminate any undercut, box form, or concave irregularity in a preparation).
Let me tell you the implications here. First of all, often, the insurance companies do not cover new codes for at least 5 years. So if you are doing D2949 you need to charge the patient sicne there will not be any help from insurance there. By creating 2 codes our patients now have 50% chance of getting help from their insurance. The good old core buildup that was meant to improve the retention, to yield a more ideal form, to rebuild missing tooth structure, or to support the tooth after root canal procedure now is categorized pretty much by how much material you used and where. We all know that many cores are done to yield a more ideal form, including elimination of undercuts. Seriously? Why the difference, why did ADA do this to us? A core is a core…functions as a support to a crown no matter where or how much the dentin is rebuild or filled-in to eliminate undercuts. We get annoyed when submitting cores because often we get funky denials. There are way too many plan specific insurance clauses which in the end DO NOT pay for the core build-up. Especially in provider practices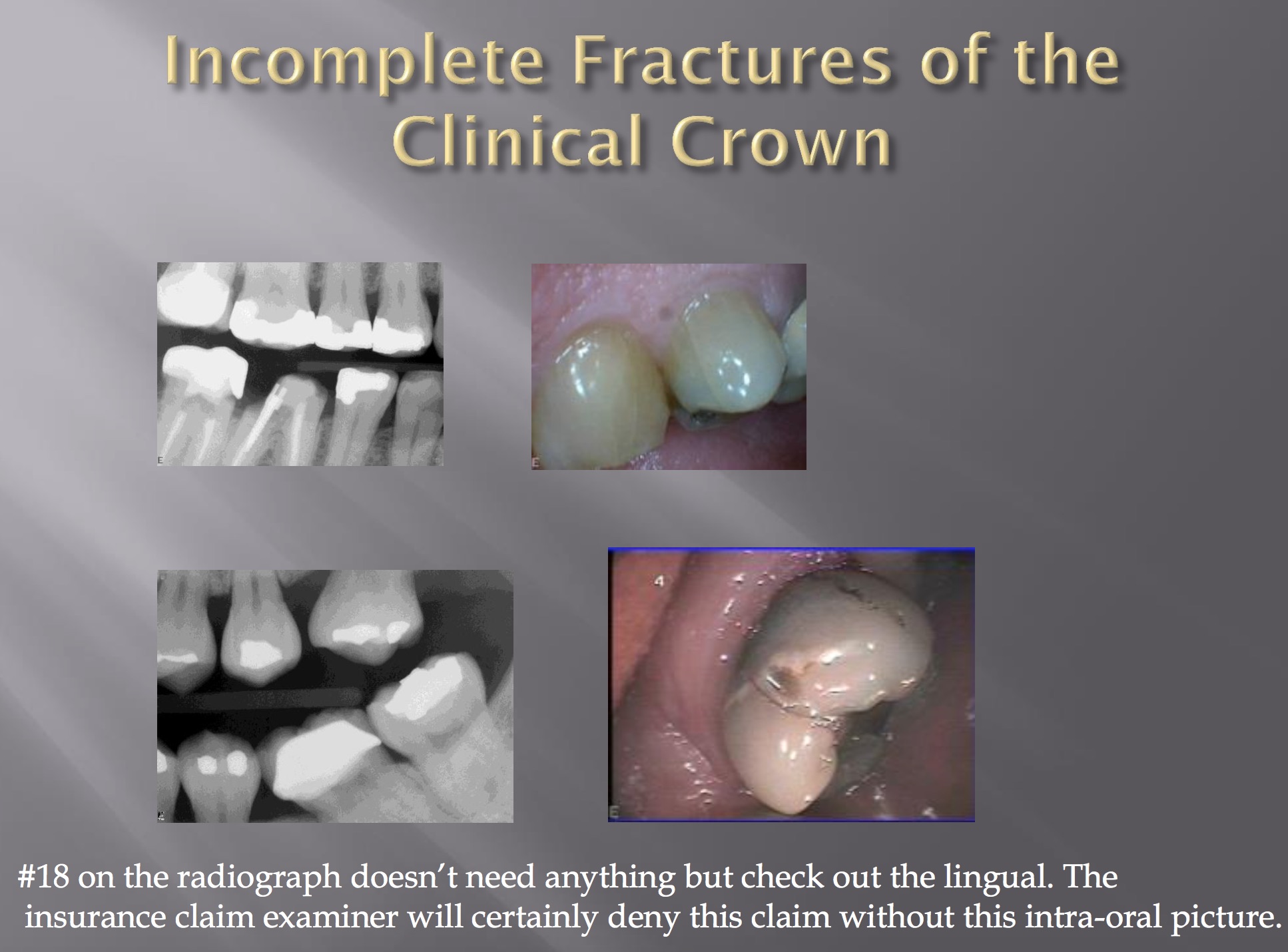 Q: Do you want to win or lose? What is the role of intra-oral photography in a dental practice?
A: Here are the crucial reasons for intra-oral photography. If you are not taking pictures you lost the game. Below you will find a pdf presentation. Please save it on your computer or print it out and I want you to have a meeting with your hygienist within the next 2 days. Then enforce that your administration sends pictures and x-rays for all indirect restorations (along with the narrative described in the last post) with the claim at time of service (avoids waiting for the insurance to request this information).
Reasons for pictures:
1.Record of Health and/or Disease
2.Patient education tool
3.Visual communication of dental conditions
4. Support for narrative submission and billing
5. Baseline record and a way for comparison in the future
6. x-rays do not always show what you see clinically (the dental claims examiner reviews x-rays and does not see what you see).
7. Increases claim approval and expedites insurance payment
Hygiene Photography Downloadable Presentation from our website:
http://www.dentalclaimscleanup.com/files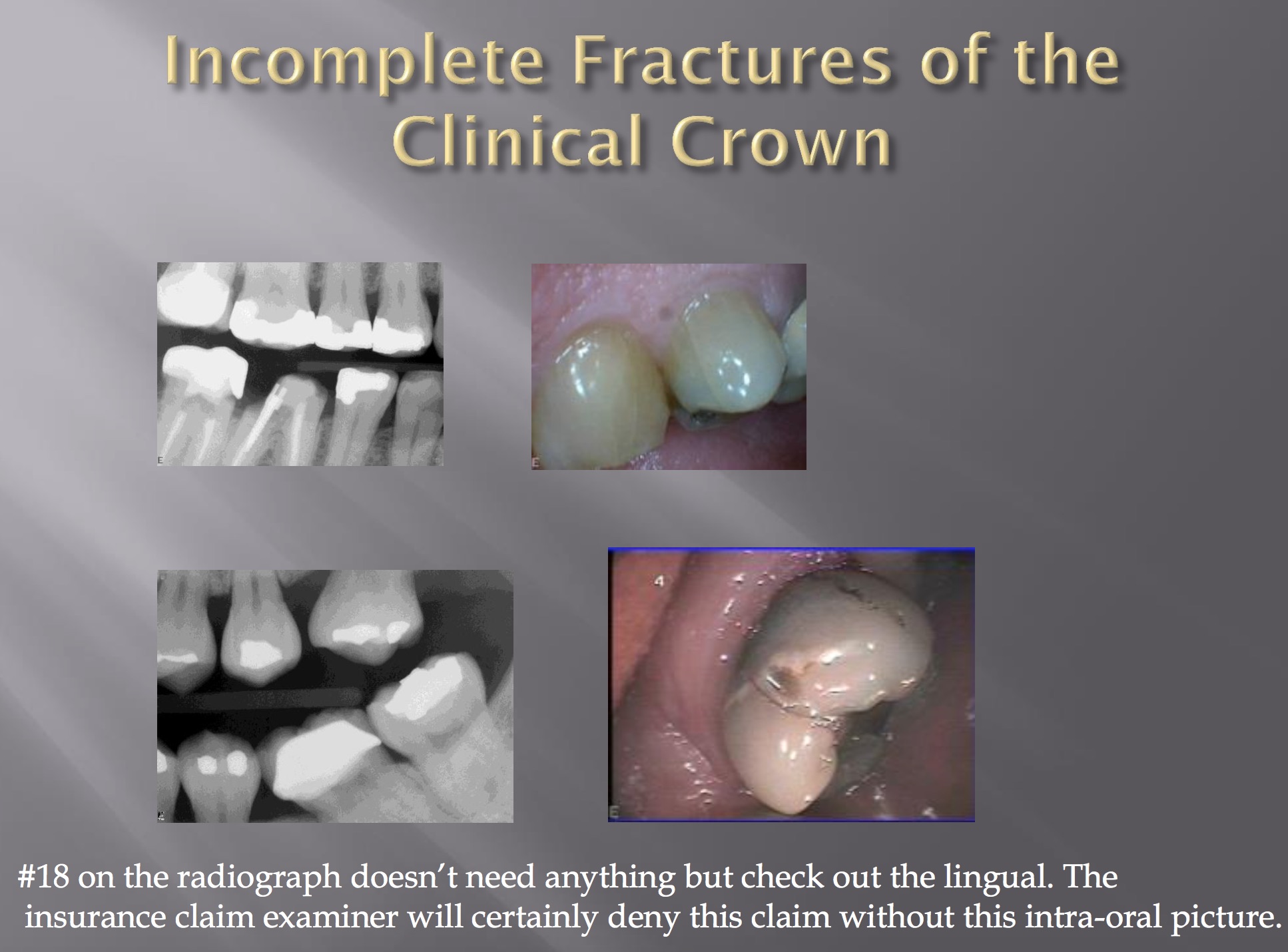 /